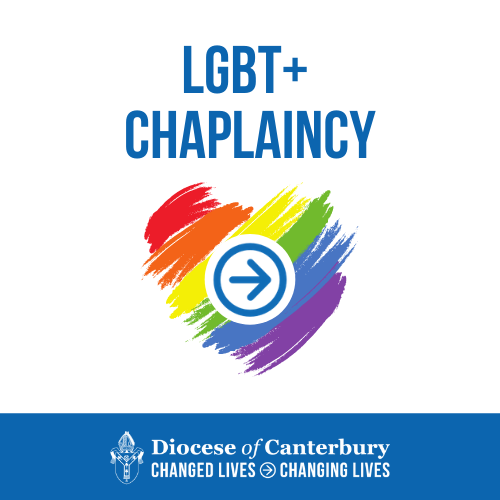 On 20 November 2021, Bishop Rose commissioned a team of LGBT+ Chaplains for Canterbury Diocese. Our chaplains work together to offer information and pastoral care to LGBT+ people, their friends, family, and ministers. Find out more about the LGBT+ Chaplaincy team and contact a chaplain here.
If you need any information about the chaplaincy, please contact the LGBT+ Advisor to the Bishop of Dover, Samuel Keeler-Walker on skeeler-walker@diocant.org. Samuel is a licensed Reader and is available to preach and to speak with PPCs and other groups - contact him to explore the possibilities.
LGBT+ Chaplains work alongside and support LGBT+ people, their families, friends, ministers and anyone with an interest in LGBT+ matters.
The chaplaincy is a safe and encouraging listening space to ensure that people can be offered appropriate pastoral and spiritual care. Alongside this, it is also a place to get advice and guidance.
Chaplains work within House of Bishops guidelines, embracing a non-judgemental attitude toward persons in regard of their sexuality, welcoming and valuing every person as equal in the eyes of God.
Chaplains will listen unconditionally to the lived experience of any person who seeks their support.
Every person has ethical decisions to make about how to live out their God-given sexuality. These questions are common to each one of us, whatever our sexuality or gender identity; chaplains are called to walk alongside people in this discernment.
Our chaplains attend the Open Table service at St. Peter's Canterbury and are available to help there.
Please meet our Chaplains and if you would like to talk to one of them, please do send an email - details at the bottom of the page.
What you can expect from a chaplain:
they will be affirming and accepting of you;
they will listen to you with attentiveness and respect;
they will seek to understand you and your life, hopefully enabling you to gain new insights;
they will wish the best for you – especially in your spiritual life and walk with God;
they will be with you in your pain, anxiety, and in your joy;
they will be working within the House of Bishops' guidelines on human sexuality;
they will not 'tell you what to do', or what choices to make;
they will not question your integrity, your self-understanding, or your identity;
they will not judge you, but will seek only to understand you;
they will not seek to change you;
they will not breach your confidentiality unless they think that your life, or that of another, is in danger.
Revd Deacon Pat Wright

Pat trained in nursing and spent 25yrs working with those infected and affected by HIV/AIDS, including 8yrs in Africa. This time, plus working in parishes and hospital chaplaincy, means that she is experienced in listening to and talking with people from many faiths and backgrounds.

Revd Denis Hartley

After many years in prison ministry Denis is enjoying semi-retirement as Assistant Curate in the United Benefice of St John the Baptist Margate & All Saints Westbrook. In a loving relationship for over 30 years Denis has experienced both the best and worst of being gay in the church. Although raised in the Anglo-Catholic tradition his time as a prison chaplain has made him appreciative of all traditions and all faiths. He welcomes the opportunity to journey with people as they explore the Grace of God at work in the lives of the LGBTI+ community.

Caroline Spencer

Caroline Spencer has served the Church in a variety of roles over many years, at parish, deanery, diocesan and national levels. Currently, she is a Lay Member of the Chapter of Canterbury Cathedral and a Spiritual Accompanier. Two of her three adult children are members of the LGBT+ community. Caroline lives with her husband in the countryside between Ashford and Canterbury.

Karen Sanders

Karen trained as an Adult Nurse after leaving school in 1980. Karen is now a senior lecturer in Nursing at a London University. Throughout her career Karen has enjoyed caring for individuals, working with colleagues and supporting students who are diverse in many ways.

Karen became a Street Pastor in 2008, she gave up this role this year due to changing life commitments.

In 2010 she helped set up a Healthcare Centre at the Church Army Headquarters in Nairobi, Kenya.

Karen has been a volunteer at the Maidstone Churches Winter Night Shelter since 2013 when it was opened. Karen intends to serve on the team again this year, supporting individuals who are diverse and have a wide variety of needs.

Karen has been a voluntary team member at the Living Well (Canterbury Diocesan Centre for Healing and Wholeness) for several years, where she provides support to those in need and a listening ear during Deeper Healing Days at the Living Well and at Healing Hubs throughout the Canterbury Diocese.
Confidential contact
To contact one of our Chaplains please email LGBT@diocant.org.

In the email, please include which Chaplain you would like to contact and any additional information you would like to add.

Your privacy and safety is important. The email will be seen by LGBT+ Advisor to the Bishop of Dover, Samuel Keeler-Walker but no other person, other than the chaplain you are addressing your message to, will see your note.

Your email address is not captured for any other purpose than allowing the chaplain to contact you. All subsequent emails between you and the chaplain supporting you are confidential.