'God is in all things, so that there is no particle in creation and no experience of yours in which he is not with you.' Gerard Hughes
Overview
As we emerge from two years of lockdowns and restrictions, coronavirus is still with us. The Communities and Partnerships officers and projects are back to 'normal' but, as the cost of living rises and there are still many challenges for all of us to face, especially the most vulnerable in our society, we encourage everyone to continue to...
Keep well – The priority for staff, physically and mentally
Keep Praying – through online resources from cathedral and diocese, Skype, Zoom and Teams network, and the Prayer Network (see below)
Keep Connected – through online resources, phone and neighbourhood connections, but also able to keep food supplies open to the poor (see below)
The Director of Communities and Partnerships, Jonathan Arnold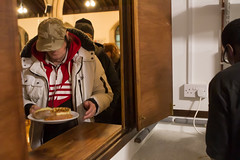 COMMUNITIES AND PARTNERSHIPS TEAM
Our work is centred on community engagement and social justice. Our portfolio evolves in response to migration and refugees, social issues of debt, hunger, homelessness, modern slavery and exploitation, the rehabilitation of ex-offenders, as well as environmental and rural justice. We re-imagine church and ministry with our pioneering Ignite projects, attended by many struggling with poverty and addiction. We build partnerships with many non-church organisations across the UK, Europe and as far as Madagascar in order to enrich our communities, share the Gospel and build the kingdom of God.
Community Engagement Social Action: Responding to Social Distancing
Some ideas on guidance for parishes/public
Meditations during these uncertain times
Child sexual abuse and exploitation awareness during COVID-19 - poster from the National Police Chiefs Council and The Children's Society
Wash your hands of coronavirus scams!
'Your NHS Needs You' – NHS call for volunteer army

Useful Information