Lent resources
Primrose Northrop has produced an excellent guide – available here – which reviews great Lent resources, both for individuals and groups. Please use this guide to inform your choice of Lent materials and please do also pass it on to others to whom it would be helpful. Why not give it to someone who you think might not have considered doing anything during Lent before?
The Room Where It Happens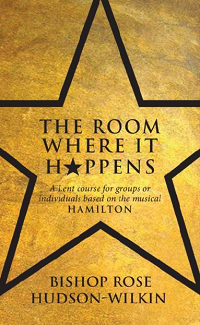 The Room Where It Happens is an exciting new Lent course for 2022, written by Bishop Rose and based on the award-winning musical Hamilton. It is suitable for people to follow either as a group meeting in person or remotely or as individuals. The five sessions invite us to explore what the Bible and the experience of Christian faith teach us about some key issues that Alexander Hamilton faced – and that we face today. Hamilton's responses to injustice, adversity and temptation, his search for identity, and his realisation that he (and all of us) can make a difference in the world have much to teach us. Each session contains an opening prayer, an introduction, film excerpts to watch/listen to and discuss, Bible passages to read and explore, 'share and discuss' and 'think and discuss' sections, reflections, suggested action, and a closing prayer.
The five sessions cover the following themes: Identity and Belonging; Ambition and Temptation; Forgiveness and Redemption; Love and Sacrifice; Hope and Courage through Adversity.
As well as offering her reflections on the various film excerpts, the Bible passages and the themes they explore, Bishop Rose also draws on her own experiences from a childhood growing up in Jamaica without a mother from the age of 2, and from her years of ministry. 'It is my hope', writes Bishop Rose, 'that we will find ourselves at the end of the course more literate and fluent when it comes to expressing our faith, and comfortable and willing, not only to recognise, but to speak about the difference faith is making in our daily living.'
You can learn more and order you copy from either Darton, Longman & Todd or Eden.co.uk.